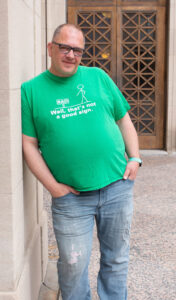 Hey there, I'm the Blue Collar Therapist, Michael, a licensed professional counselor (LPC) with over 10 years experience in mental health counseling.  I work with individual, couples, families and groups of differing age groups and ethnicity.  I graduated from Lakeland College in December 2011 with a Masters of Arts degree in Community Counseling and received my license, LPC, in August of 2015.
Choosing a therapist can be paralyzing, but by taking time to find the right fit for you and the therapist is important for your long-term effectiveness.  Please browse my history below before contacting me so that you have a better understanding of who I am and whether or not you feel as though we may be a good fit.
---
Who is Michael?
I have grown up throughout the Midwest.  I was born in South Bend, IN, area, moved to Muskegon and Stevensville, MI, before landing in the Fox Cities in 3rd Grade, and have also lived in Atlanta, Minneapolis, Iowa and Albany, NY. I was adopted by two wonderful parents who were able to give me opportunities that I may not have had otherwise.  I completed my Bachelors Degree in Psychology at the University of Wisconsin – Oshkosh (UWO) between 2005-2009 and a Masters of Arts in Community Counseling at Lakeland University, graduating in December 2010.  Before my journey to become a professional counselor, however, I earned an Associate's Degree in Computer Information Systems – Programmer/Analyst from Fox Valley Technical College (FVTC) in Appleton, WI.
Why counseling as a profession?
During high school, I was given the opportunity to participate in a student group called SOS (Students Offering Support), along with the STOP (Students Taking On Prevention) program.  During my time in these programs, I realized that I was able to help other students process issues they were experiencing (stress, anxiety, depression, grief due to loss, etc.).  At that time I knew I wanted to be a counselor/therapist.  In this capacity I could help change the world, one person or family at a time.
What do you do when you're not working?
I enjoy a number of activities outside of the office.  Star Wars is a main staple in my life.  I can be found playing video games (I really like the Lego Star Wars games on Wii and Xbox).  I used to play Bass Guitar, too.  I haven't had the passion to pick it up for some time, but still have my '79 Fender P-Bass though and I'm not ready to part with it.
Therapeutic Approach
I meet you where you're at, not where I am; that's my philosophy as a therapist (and a person). William Glasser said, "We almost always have choices, and the better the choice, the more we will be in control of our lives."  I do not believe anyone is broken, sick or "crazy."  These terms, in my opinion, are indicative of broken logic that has plagued our world for far too long.
As a licensed professional counselor, I approach each person, I interact with, with a holistic lens (seeing through a "wellness" viewpoint, rather than one of "illness").  Looking at all aspects of life – biological, psychological, environmental and spiritual and how they effect you today.  We will discuss your history, as oftentimes we have learned something that has been carried through life and continues to hold you back from being the best "you" that you can be.
While I am trained in a number of different modalities (treatment approaches), I often refer to my style as Eclectic (I use whatever it takes to help you get where you would like to go).  Through treatments like CBT (Cognitive-Behavioral), Rogerian (Client-Centered), Existential (meaning based), Mindfulness and Family Systems, I am able to help clients work through their unique stories and what may be holding them back, rather than "getting over" the issues that keep you stuck.
While the type of treatment method may or may not matter to you, I always treat everyone with respect and compassion, while collaborating with you to work towards the goals you wish to explore.
For information about what to expect from the first therapy session and other common questions, click here.